After returning from Guatemala in 2005, we missed our retail operations in Guatemala, so we opened Lucia's World Friendly Boutique in 2007. In October 2014 we moved the shop to 328 N Ashland Ave to be under the same roof as our parent wholesale company store, Lucia's Imports.
Now officially know as Lucia's World Emporium, we are Lexington's premiere Fair Trade store. Our new location at 328 N Ashland Ave, is part of the up and coming Warehouse Block, near the historic Kenwick neighborhood and just outside of downtown.
Having a retail storefront, allows us to not only sell our Guatemalan imports from our wholesale business but we can offer an eclectic array of ethically produced jewelry, accessories, gifts, and folk art from around the world. Focusing on Fair Trade products is our way of contributing to a more just and equitable world by improving the quality of life for artisans and their families through a socially, economically, and environmentally responsible business model.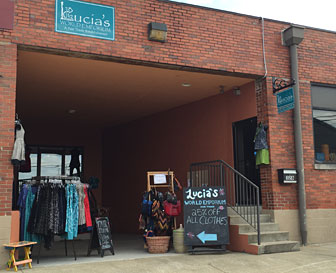 Visit Lucia's World Emporium
Brick and Mortar store at:
328 North Ashland Avenue,
Lexington, KY 40502


Mon-Sat
10am - 6pm
Sundays 12pm - 4pm during December
Phone 859-523-1529
Or shop online at Lucia's World Emporium!